Tools for Managing Multiple Social Media Platforms
---
The following social media tools are recommended by FEMA and can be used by any agency to monitor and manage multiple social media sites. 30, 31

Both HootSuite and TweetDeck "aggregate social media site feeds in one spot, allowing users to search by keywords." 32 Both platforms aid in organizing information, sorting, and scheduling posts. 33 Trendsmap displays Twitter trends geographically via Google Maps.



A. HootSuite
HootSuite supports social network integrations for Twitter, Facebook, LinkedIn, Google+, WordPress, and more. It has a browser-based interface that allows social media profiles to be viewed in tabs, rather than all in one window. It has the ability to filter messages, schedule posts, and manage messages through multiple platforms, as well as provide custom analytics. 34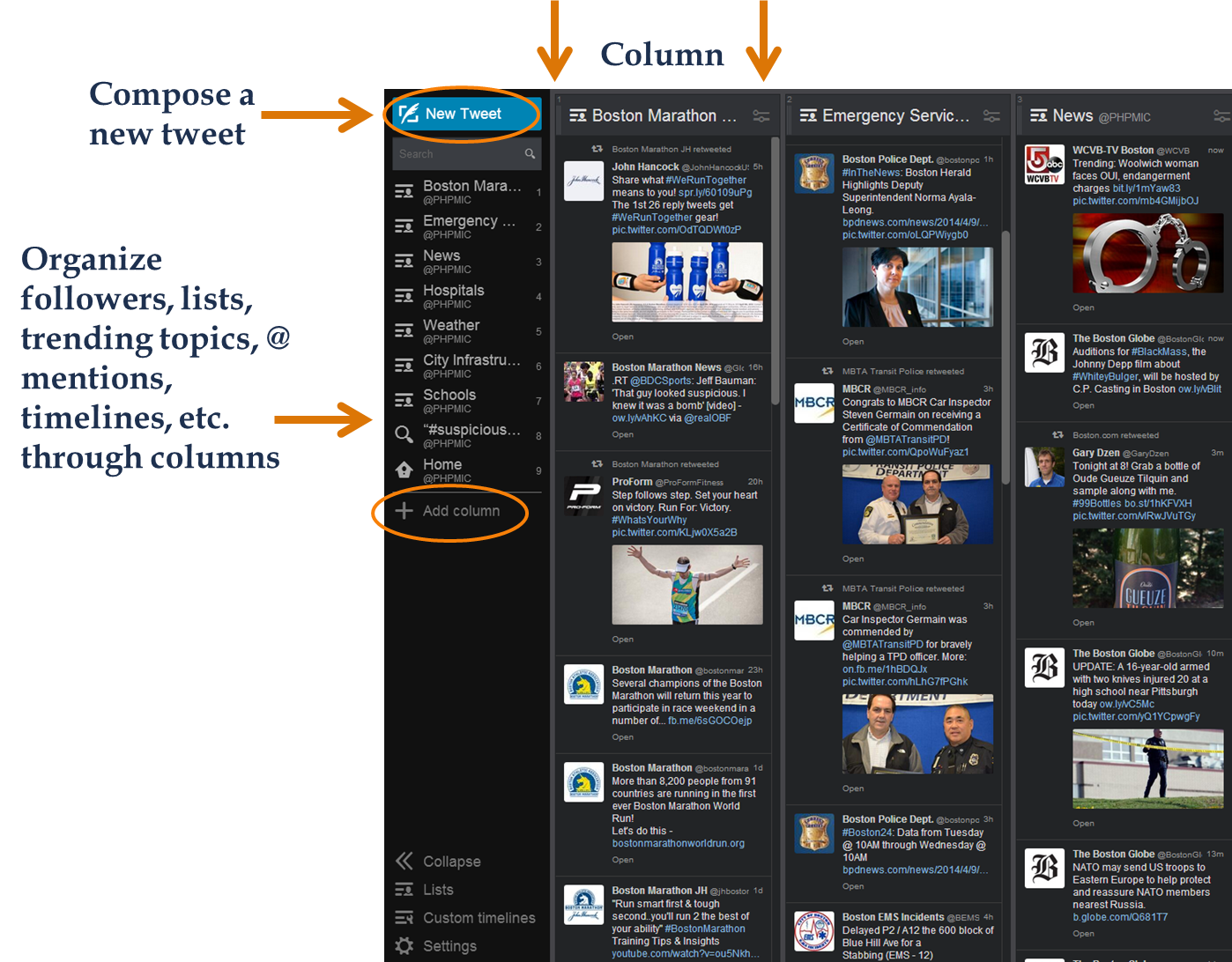 B. TweetDeck
TweetDeck, a downloadable desktop application made exclusively for Twitter, allows for the organization of tweets through "customizable columns, multiple accounts toggling, scheduling, and automatically refreshing feeds". 35 TweetDeck relies on a column-based interface that allows all social media profiles to be viewed in one window.
This beginner's guide to TweetDeck details how to set-up and customize TweetDeck features to your agency's needs.

C. Trendsmap
Trendsmap is a combination of Twitter, Google Maps, and trending data which maps out Twitter trends at the local level. Trendsmap tracks keywords or topics from recent tweets and plots the words on a map, allowing the user to click on the trend to bring up information on the volume of tweets from that word, a description of the trend, and relevant links. 36 
For more information about Trendsmap, click here.
« Previous | Topic Home | Next »


---
References
30 Skolnik, A. (2013, July 29). FEMA's Updated Social Media Tools. Retrieved from http://www.fema.gov/media-library/assets/videos/83163
31 Mazmanian, A. (2013, July 9). Twitter for Disaster Responders. Retrieved from http://fcw.com/articles/2013/07/09/fema-social-media.aspx
32 FEMA. (2013, June 18). IS-42: Social Media in Emergency Management, Lesson 2: Monitoring and Aggregating Sites. Retrieved from http://emilms.fema.gov/is42/BPSM0101020t.htm
33 Cetin, M. (2013, November 7). The Beginner's Guide to TweetDeck. Retrieved from http://mashable.com/2013/11/07/tweetdeck-beginners-guide
34 HootSuite Website. (n.d.) Retrieved from https://hootsuite.com/features/social-networks
35 Cetin, M. (2013, November 7). The Beginner's Guide to TweetDeck. Retrieved from http://mashable.com/2013/11/07/tweetdeck-beginners-guide
36 Parr, B. (2009, September 22). Trendsmap: Twitter Trends + Google Maps = Awesome. Retrieved from http://mashable.com/2009/09/22/trendsmap