COVID-19 Calls for Clinical Providers
These meetings for clinical providers are organized by the Boston Public Health Commission and provide information about emerging issues related to COVID-19 treatment. 


Monkeypox virus (MPV) and TPOXX: Knowledge, Access, and Equity
September 21, 2022, 5:30-6:30PM 
Tecovirimat (also known as TPOXX or ST-246) is an FDA-approved treatment for human smallpox disease that is currently under a non-research expanded access Investigational New Drug (EA-IND) protocol for treatment of monkeypox infections in adults and children. Although clinical data is not yet available on the effectiveness of TPOXX, animal studies have shown that it is effective in treating disease caused by orthopoxviruses and limited case data suggests that it may shorten the duration of illness and viral shedding. Although clinical indications for TPOXX include the presence of anal and/or genital lesions, which has been prevalent throughout the current outbreak, widespread and equitable uptake of TPOXX may be limited for several reasons, including by provider and patient awareness, treatment availability, and logistical EA-IND constraints. Therefore, this meeting aims to increase provider situational awareness on the use, clinical indications, EA-IND process for TPOXX, as well as to identify strategies to enhance knowledge and uptake of TPOXX among Boston and Massachusetts residents, particularly in our communities of color.
To provide general information and updates on tecovirimat (TPOXX) clinical use and EA-IND process

To strengthen situational awareness of TPOXX availability across providers in Boston and MA

To identify strategies to support provider sites offering tecovirimat and to expand equitable access of tecovirimat among Boston and Massachusetts residents
Pediatric COVID-19 Vaccines: BPHC Provider Meeting
April 6, 2022, 6:00-7:30PM 
Increasing COVID-19 vaccination uptake among Boston children and youth—by increasing access to vaccines, appropriately counseling families and youth on COVID-19 vaccines and side effects and building trust--- is a public health priority. Pediatric and youth COVID-19 vaccination rates across the City of Boston remain low and have stagnated over the past months, with only 39.9% of Boston children ages 5-11 and <70% of youth ages 15-24 reported as fully vaccinated as of March 9, 2022. Racial and ethnic disparities in pediatric COVID-19 vaccination status remain evident in Boston's communities of color, with only 21.4% and 27.2% of Black and Latinx children (5-11 yrs) reported as fully vaccinated, compared to 66.4% of White children.    
During this meeting, experts will review the latest clinical and public health data on COVID-19 vaccines, including risk of myocarditis among youth and adolescents, COVID-19 messaging and engagement strategies, and best practices to strengthen vaccine confidence among vulnerable parents and families. 
Access to COVID-19 Oral Treatments Meeting
February 16, 2022, 6:00-7:30PM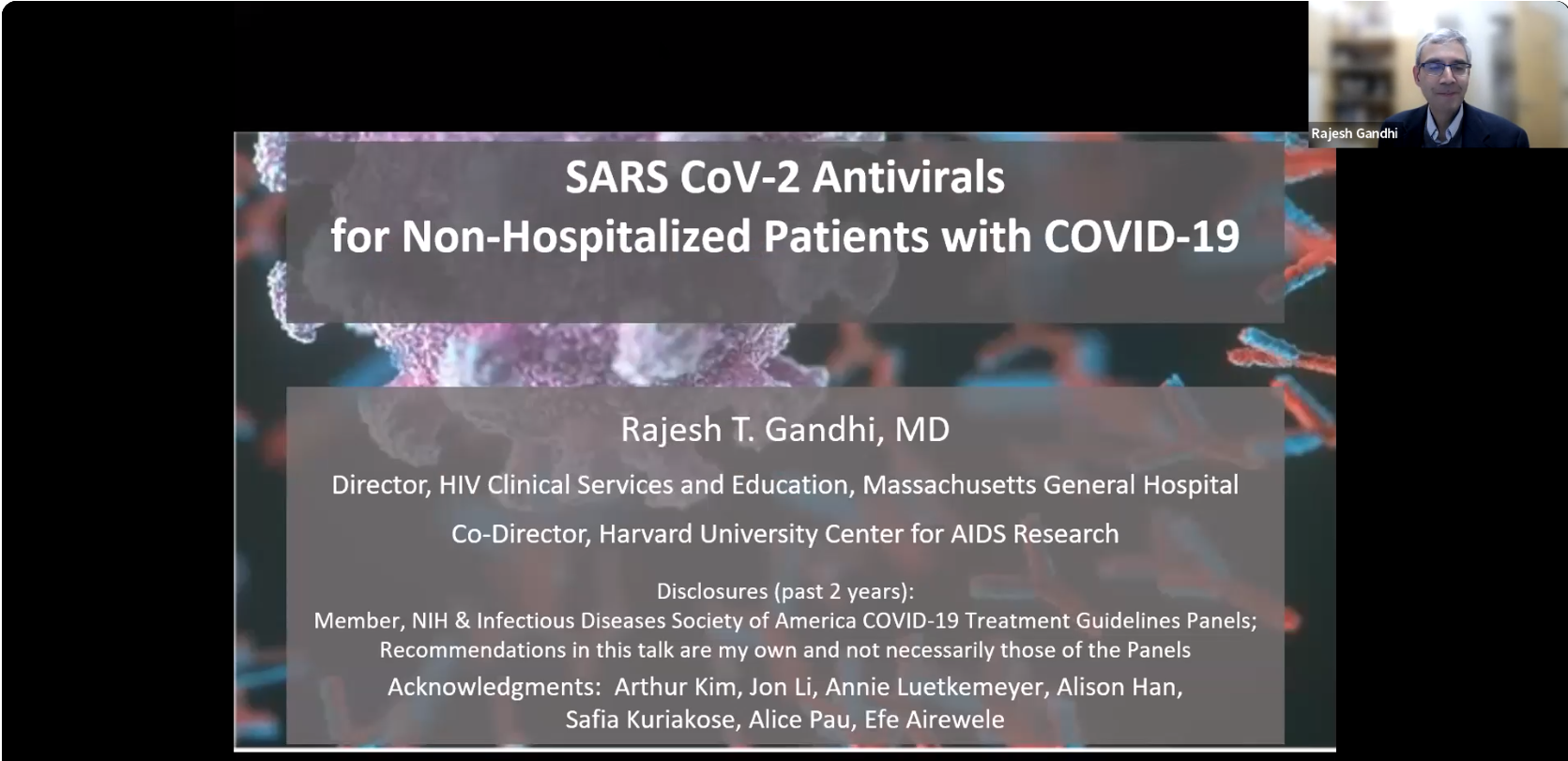 Though new oral antiviral medications for COVID-19 have become available, access throughout Boston is currently limited. There is significant concern that scarce supply and barriers to uptake of oral antivirals will exacerbate racial and ethnic health disparities that have been noted throughout the pandemic. During this meeting, experts will review best practices for safe, equitable prescribing to treat individuals with mild-to-moderate COVID-19. Speakers from the Massachusetts Department of Public Health will discuss access and availability of antivirals. Community Health Center leadership will describe models that they are currently utilizing to increase prescription and uptake among Boston's most vulnerable populations.