PPE Overview

---
To keep first responders and first receivers from becoming victims themselves during a hazardous material /CBRN incident, it is imperative the correct level of Personal Protective Equipment (PPE) is chosen in order for the employee to safely fulfill their duties while mitigating the effects of the release.
Procuring the right PPE can often be a confusing and challenging task. Organizations should conduct extensive research into the required training and PPE prior to investing in either. The cost associated with maintaining a program and purchasing the necessary PPE can be substantial, and good foresight will ensure a better allocation of valuable time and money, and more importantly, increase first responder and first receiver safety. 
The federal standards for the use of PPE by both first receivers and first responders can be found in the following documents:
NFPA 1991 Standard on Vapor-Protective Ensembles for Hazardous Materials Emergencies (2005 Edition)
U.S. Code: Title 29 - Labor of the Code of Federal Regulations, Parts 1910.132 and 1910.134
The PPE standards and required training for individuals working near hazardous materials vary greatly; therefore it is critical that individuals and organizations understand the many differences that exist in training and PPE in order to ensure overall operational safety. OSHA outlines the various levels at which employees must be trained to in order to conduct their duties near or at the site of a hazardous materials release:
The five OSHA levels of Hazardous Waste Operations and Emergency Response Standard (HAZWOPER) training include:
Awareness

Operations

Technician

Specialist

On-Scene Incident Commander
NOTE: OSHA does not "approve, certify, or endorse individual trainers or training programs," however, organizations should call their regional OSHA office and speak to a Compliance Assistance Specialist for all matters related to training, to include training recommendations. A link to OSHA's state-by-state offices can be found here. An additional resource for locating HAZWOPER training is the Training Exchange (TRAINEX) website. Through a partnership with the Interstate Technology Regulatory Council, a public-private human health and environmental coalition, the U.S. Environmental Protection Agency (EPA) maintains the TRAINEX website in order to provide stakeholders relevant classroom and internet-based training schedules.
1. Why is PPE Needed?

First responders and receivers may come into contact or work in the presence of hazardous substances in the course of their everyday duties. The release of hazardous materials may be a result of a Weapons of Mass Destruction (WMD) event involving weaponized biological agents and toxins, radionuclides, a radiological dispersal device, chemical warfare agents or as a result of an accident involving toxic industrial chemicals (TICs) or toxic industrial materials (TIMs). As a result, any first responder or first receiver working around these substances can reasonably be expected to perform emergency rescues, hazard monitoring, patient and responder decontamination operations and area surveys while in appropriate Levels of Protection (LOP's).
2. Where is PPE Needed?

During any hazardous materials event, a hot, warm, and cold zone must be established as a part of the Incident Action Plan (IAP). These three zones are also often referred to as the exclusion zone, Contamination Reduction Zone (CRZ), and the Support Zone (SZ). Understanding what type of training permits a worker to enter and work in each of these zones is critical. Only hazardous materials technicians should be permitted in the hot zone. These technicians have the training and skills necessary to conduct offensive operations, meaning they will likely be expected to handle or will inadvertently come into contact with hazardous materials in order to mitigate a hazardous materials situation.
Those trained to the operations level are permitted in the hot zone, but are only authorized to take part in defensive operations and must be under the direct supervision of a hazardous materials technician. Defensive operations refers to anything that does not include actually handling or coming into direct contact with hazardous materials, such as confinement (dike, dam, diversion, and retention), absorption, adsorption, dilution, vapor dispersion and suppression, closing valves remotely, and victim extrication and evacuation.
OSHA describes the three zones as follows:
Hot Zone: An area in and immediately surrounding a hazardous substance release. It is assumed to pose an immediate health risk to all persons, including EMS responders.
Warm Zone: The area surrounding the hot zone, where primary contamination is not expected but where personnel must use protective clothing and equipment to avoid hazardous substance exposure from contaminated victims. People and items are decontaminated in this zone as they return from the hot zone and before being released to the cold zone. The warm zone is located between the hot zone and the cold zone, with consideration of environmental factors such as wind direction and geographic conditions.
Cold Zone: Area free of contamination. Equipment and people leaving the hot zone should be decontaminated prior to arriving at the cold zone. If a hazardous substance from patients or equipment contaminates the cold zone, the area is redefined as a warm zone.
3. Levels of PPE

A full PPE ensemble consists of a chemical resistant suit, gloves, footwear and respiratory protection. PPE is designed to protect hazardous materials team members from:
vapors

gases

liquids

particulates

aerosol threats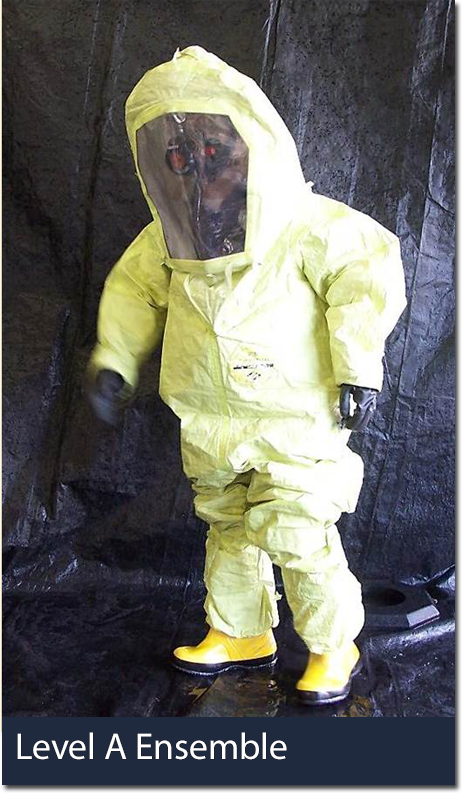 The EPA defines the four levels of PPE
as follows
:
Level A: required when the greatest potential for exposure to hazards exists, and when the greatest level of skin, respiratory, and eye protection is required. Examples of Level A clothing and equipment include:
positive pressure, full face-piece self-contained breathing apparatus (SCBA) or positive pressure supplied air respirator with escape SCBA;

totally encapsulated chemical- and vapor-protective suit;

inner and outer chemical-resistant gloves; and

disposable protective suit, gloves, and boots.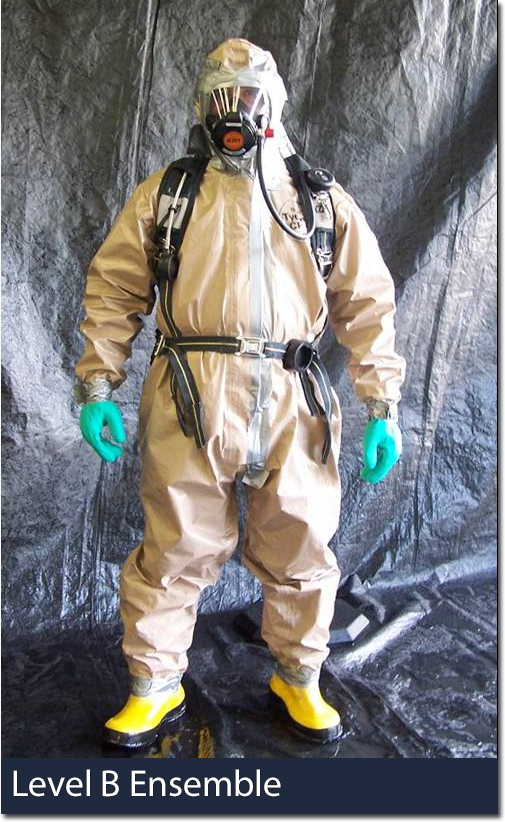 Level B: required under circumstances requiring the highest level of respiratory protection, with lesser level of skin protection. At most abandoned outdoor hazardous waste sites, ambient atmospheric vapors or gas levels have not approached sufficiently high concentrations to warrant level A protection. Examples of Level B protection include:
positive pressure, full face-piece SCBA or positive pressure supplied air respirator with escape SCBA;

inner and outer chemical-resistant gloves;

face shield;

hooded chemical resistant clothing;

coveralls; and

outer chemical-resistant boots.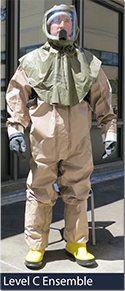 Level C: required when the concentration and type of airborne substances is known and the criteria for using air purifying respirators is met. 
Typical Level C equipment includes:
full-face air purifying respirators;

inner and outer chemical-resistant gloves;

hard hat;

escape mask; and

disposable chemical-resistant outer boots.
Level D: the minimum protection required. Level D protection may be sufficient when no contaminants are present or work operations preclude splashes, immersion, or the potential for unexpected inhalation or contact with hazardous levels of chemicals. Appropriate Level D protective equipment may include:
gloves;

coveralls;

safety glasses;

face shield; and

chemical-resistant, steel-toe boots or shoes.
Topic Home | Next »