MANAGING RESPONSES TO EMERGING INFECTIOUS DISEASES: PAST, PRESENT, FUTURE
---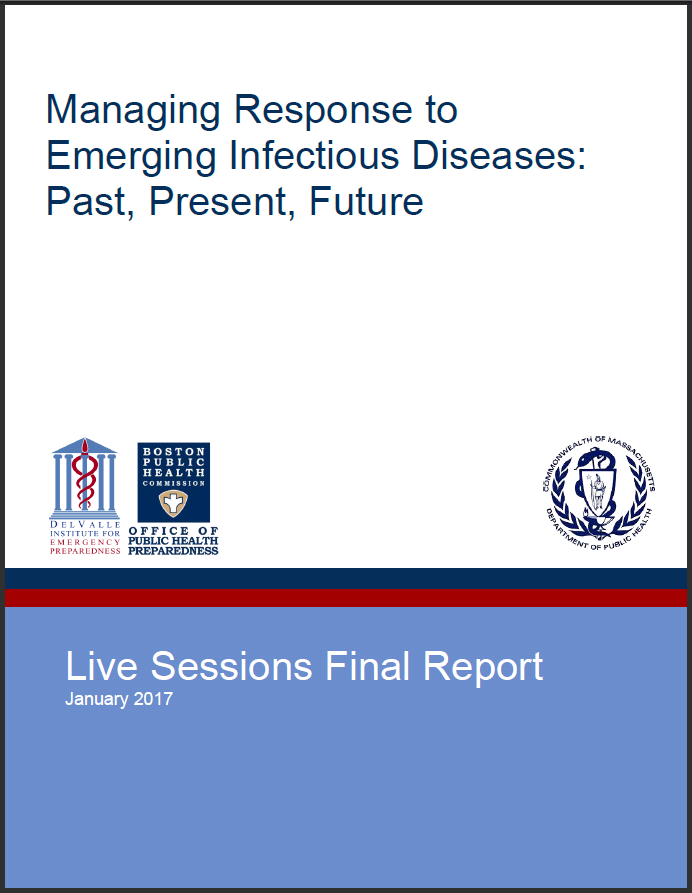 The cross-disciplinary educational series Managing Response to Emerging Infectious Diseases:Past, Present, Future, focused on planning for and responding to emerging and re-emerging infectious disease threats, with the overarching goal of raising awareness of roles across disciplines. The target audience for this training series included the five core public health and healthcare disciplines (community health centers, emergency medical services, long term care facilities, hospitals, and public health). 
The series was delivered from July through September, 2016 and consisted of three webinars, followed by the in-person Live Session. The live session was held three times: in Burlington on September 13, 2016, in Easton on September 20, 2016, and in Holyoke on September 30, 2016. The final report summarizes the participant feedback gathered in the live sessions. Links to the three webinar archives are listed below, along with the videos recorded at the live sessions. 
Webinar Recordings
EID Live Session
Videos from the EID Live Sessions can be viewed below. 
To view the entire collection on Vimeo, please click here. 
Welcome and Opening Remarks
September 13, 2016

September 20, 2016

September 30, 2016

by Mary Clark, JD, MPH, Massachusetts Department of Public Health 

Mea Allen, Boston Public Health Commission

by Kerin Milesky, Massachusetts Department of Public Health 

Mea Allen, Boston Public Health Commission

by Roberta Crawford, MPA, MEP, Massachusetts Department of Public Health 

Mea Allen, Boston Public Health Commission
Distinguished Speaker Lecture
Responding Together as a Healthcare System
Panelist Presentations
September 13, 2016

PUBLIC HEALTH



Partners in communication: Unifying our message during the Ebola outbreak

by Stacey Kokaram, MPH, Boston Public Health Commission

HOSPITALS



Staff health and safety issues in the care of a pediatric patient with suspected Ebola

by Dr. Shira Doron, MD, FIDSA, Tufts Medical Center

COMMUNITY HEALTH CENTERS

Ebola Preparedness Communication Plan

by Bernadette Thomas, APRN, DNP, MPH, Lynn Community Health Center

EMERGENCY MEDICAL SERVICES

Big Bad Bugs: Handling Infectious Disease Patients in the Pre-Hospital Environment

by Deputy Superintendent Susan Schiller, NRP, Boston EMS

LONG TERM CARE



H1N1 Response in the Nursing Home

by Sakhonh Kheuamun, Hebrew SeniorLife

September 20, 2016

PUBLIC HEALTH



A Multi-Disciplined Approach for Planning Emerging Infectious Diseases 

by Sean O'Brien, Deputy Director, Barnstable County Department of Health and Environment

HOSPITALS



Emerging Infectious Disease Response: Hospital Perspective


by Sheila Wallace, BSN, BA, MA, CHPA, CHC, Steward Health Care

COMMUNITY HEALTH CENTERS

How Large Ambulatory Care Practices Can Contribute to EID Response 

by Linda Foote, PhD, Atrius Health

EMERGENCY MEDICAL SERVICES

EMS Response to Managing High Risk Infectious Patients


by David Faunce, EMT-P, Southeastern MA EMS Council

September 30, 2016

PUBLIC HEALTH



A Local Public Health Perspective to Managing Public Information

by Colleen Bolen, MPH, Worcester Division of Public Health

HOSPITALS



Hospital Role in Integrated Planning and Response

by Lucy Britton, BS, RN, Berkshire Medical Center

COMMUNITY HEALTH CENTERS

Public Information Challenges for Community Health Centers

by Carrie Matusko, RN, Holyoke Health Center

EMERGENCY MEDICAL SERVICES

The EMS Challenge Transporting the High Risk Infectious Patients

by Brian Andrews, EMT-P, County Ambulance
Panelist Q&A
| | | | |
| --- | --- | --- | --- |
| Best Practices | | | |
| What is something you've seen done right, in your agency or region, with respect to EID response?  | What other responses or outbreaks have you examined to learn how to improve your EID preparedness? |   |   |
| Session 3 | Session 3 | | |
| Guidance | | | |
| During previous EID outbreaks such as Ebola and Zika, how do we follow what may be differing guidance between local, state, and federal partners?  | How do you make sure that you are able to learn about new guidance or a changing situation during an EID response so that you can rapidly update your plans and procedures?  | With the upcoming flu season, have there been any changes to guidance or suggestions to do anything differently?  | |
| Session 1 | Session 2 | Session 3 |   |
| Information Sharing/ Communication | | | |
| During an EID response, what tips can you share regarding making sure that the correct information gets to the correct people?  | | | |
| Session 1 | | | |
| Staff Management | | | |
| What issues did you find you were able to address regarding staff sharing and managing staffing needs during an EID outbreak?  | | | |
| Session 1 | | | |
| Preparedness | | | |
| We fall into a pattern of putting resources and attention into EIDs of the moment, then forgetting about them to focus on other emergencies until the next EID emerges. How do we break this cycle to maintain our preparedness to EIDs? | With healthcare organizations understaffed due to downsizing and part-time or volunteer staff on local boards of health, how do we make time for training, drills, and preparedness planning?  | | |
| Session 2 | Session 3 | | |
| Training | | | |
| Are you continuing the same level of EID training for staff compared to what you did during the Ebola response? | | | |
| Session 2 | | | |
| Partnerships | | | |
| Some response roles, such as contact tracing, span multiple disciplines. How do we map out these key roles and responsibilities so that we can increase our capacity by cross-covering various response functions?  | Who are some unusual players you have found important to include in your partnerships during an EID response?  | | |
| Session 2 | Season 3 | | |
| | | | |
| | |
| --- | --- |
| Trust/Credibility | |
| Response to an EID outbreak can cause fear and confusion among the general public and also the healthcare workforce. How have you dealt with loss of trust and credibility among your own staff and responders?  | |
| Session 1, Session 2, Session 3 | |
| Cultural Considerations | |
| When encountering a suspected EID patient who refuses to wear a mask, perhaps for cultural reasons, what do you do to enforce the use of masks or ensure safety?  | |
| Session 1, Session 2, Session 3 | |
| Final Thoughts | |
| What can we do now, at the discipline or regional level, to improve our response the future EIDs?  | |
| Session 1, Session 2, Session 3 | |
| | |
| | |
| | |